Cheap Coachella Tickets
Since launching in 1999, Coachella Music and Arts festival has quickly grown into the countries most anticipated annual live concert event; subsequently drawing massive crowds to the Empire Polo Field in Indio over two consecutive weekends every April. The festival was co-founded by Paul Tollett and Rick Van Santen and is now organized by Goldenvoice (AEG LIVE).
Looking to purchase cheap Coachella tickets 2024? Tickets4Festivals has you covered! We work towards offering VIP Coachella weekend 1 tickets and Coachella weekend 2 tickets at the absolute best prices, along with exclusive discounts and deals. There is a huge selection of discount Coachella festival one day tickets available to meet your budget. We love giving you a chance for an experience to make memories that will last a lifetime.

Tickets4Festivals is the perfect place to plan for the festival with our guide to Coachella camping tickets, schedule, price, lineups, shuttle and much more. Buy with confidence! We support you with our 100% buyers guarantee; through the secure transaction, you will receive valid and authentic cheap Coachella single day tickets 2024 week 1 & week 2 in time for the event, or we will give your money back.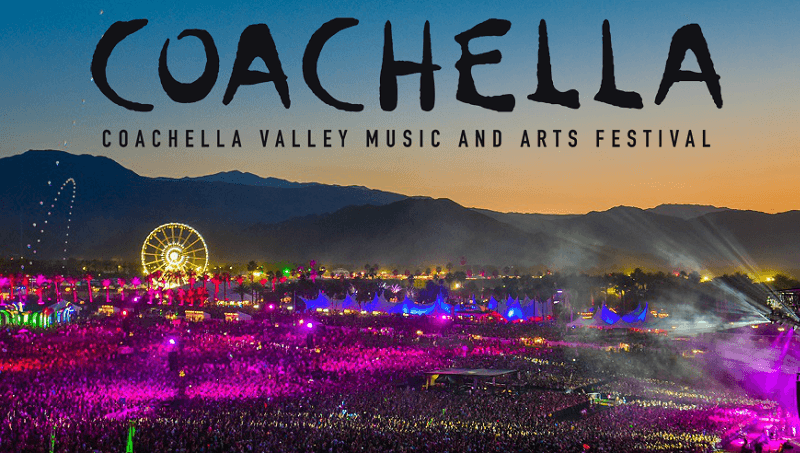 Coachella TICKETS DISCOUNT COUPON: Use FIESTA promo code on checkout and enjoy 3% Discount on your purchase. Simply enter the coupon code at the checkout to secure your place at the hottest festival in discount price. Hurry Up! Limited Time Offer!
Coachella Music Festival
The event showcases popular artists and bands, accompanied by some pretty amazing art installations and sculptures. Each year the lineups continue to get bigger and bigger, thus merging artists from various genres (hip hop, indie rock, electronic dance) of music, to offer something for everyone!
Coachella Music Festival 2023 Lineup: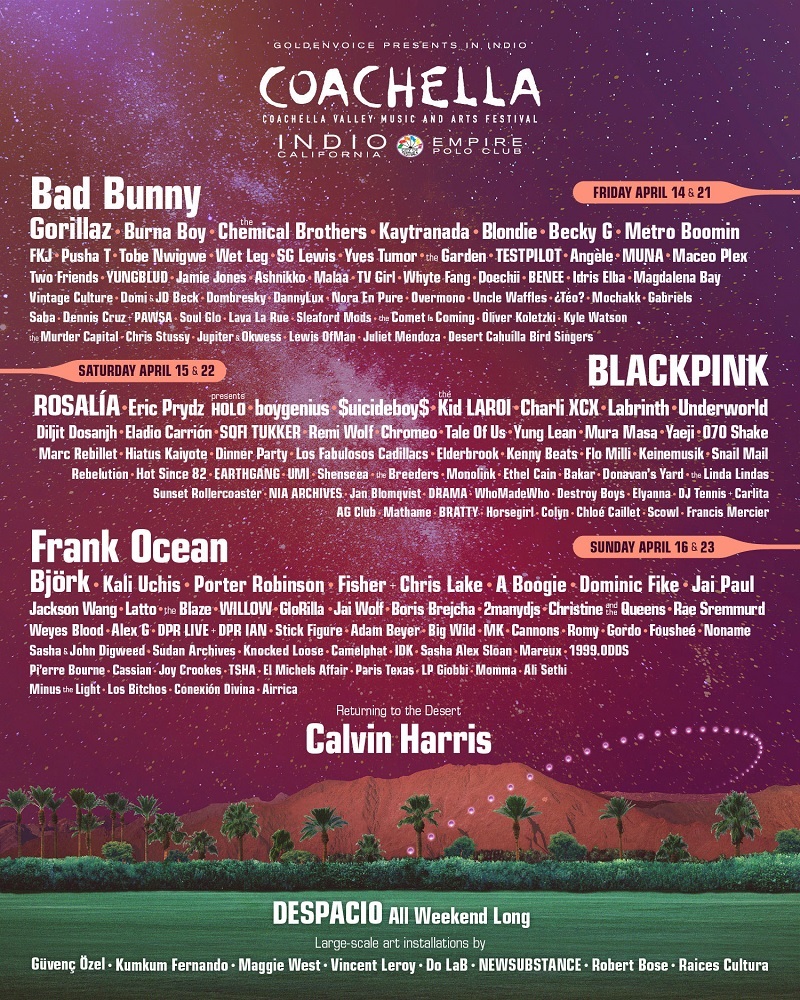 Coachella Festival Highlights
The Ultimate Coachella Survival Guide
Travel, Accommodation and simply how be prepared for any eventuality at COACHELLA…
WHAT TO EXPECT AT COACHELLA?
Coachella is definitely an unforgettable experience! In addition to great music, the festival is filled with incredible food, flowing drinks and tons of fun! F locks at the festival are energized, passionate and dress up in their most fashionable boho attires. Coachella festival provides various lodging and accommodations; from car camp, tent camp to hotel packages, there is an option available for every attendee. Tickets4festivals- the place to buy Coachella VIP tickets on sale.
THE ULTIMATE SURVIVAL GUIDE TO COACHELLA
Heading to Coachella Fest? Three days of nonstop music, scorching desert sun and massive crowds can quickly be ruined if you're not prepared. We've planned your trip for you! Get travel info, tips on what to pack, festival wear and simply how to have an epic weekend!
How to Get There With Cheap Coachella Tickets
Once you've secured your cheap Coachella tickets and booked your hotel, it's time to figure out how to actually get to Coachella. Located in California's Inland Empire, attendees more frequently land in Los Angeles at LAX Palm Springs International Airport, whilst others fly to San Diego, Phoenix, or Las Vegas and take a road trip ahead. Below are various options for getting to the festival grounds:
Shuttles are going to be your best friend, if you're staying at one of the hotels near Indio! Avoid traffic and save yourself the hassle of dealing with waiting in long parking lines. We have Coachella Shuttle tickets also available for you. We recommend the "Any Line, Any time Shuttle Pass", as they are available to freely go to and from the festival all weekend from any stop (which there are a ton of). Purchase your passes in advance, unless you want to feel stranded in the desert! (There is even an airport shuttle from LAX).
Driving a rental car or your own car to Coachella is not such a bad idea, but you are going to have to deal with traffic and parking, so plan accordingly! Be advised that day parking is free and opens from 9 a.m. to 2 a.m. cars left after 2 a.m. will be towed. If you're driving with a group of friends, try out Carpoolchella for a chance to win prizes ranging from VIP passes to Coachella for life, backstage passes, food vouchers, and more.
Taxis and Uber are available, with a special parking lot devoted to Uber pickups. They may not be the most cost-effective, but the Coachella Festival does offer a list of authorized cab franchises like American Can and Yellow Cab.
Where To Stay
At Coachella, You have the option to camp onsite or stay at an offsite location.
Camping
It's simple, Coachella and camping belong together! Especially for festival-goers who are looking for a whole experience. Just wake up, walk out of your tent and you're there in the whole energy of Indio- partying on into the night and making new friends. The campground site is adjacent to the venue grounds and offers a variety of amenities – including free showers, mobile phone charging stations, water refill stations, a general store and even an internet cafe with free Wi-Fi. Don't wait! Purchase your camping passes with your ticket, since they sell out fast. You can check Coachella youtube videos to get more ideas.
Off-site camping is also available; although it is not ideal compared to camping on the festival grounds, it is definitely an affordable alternative.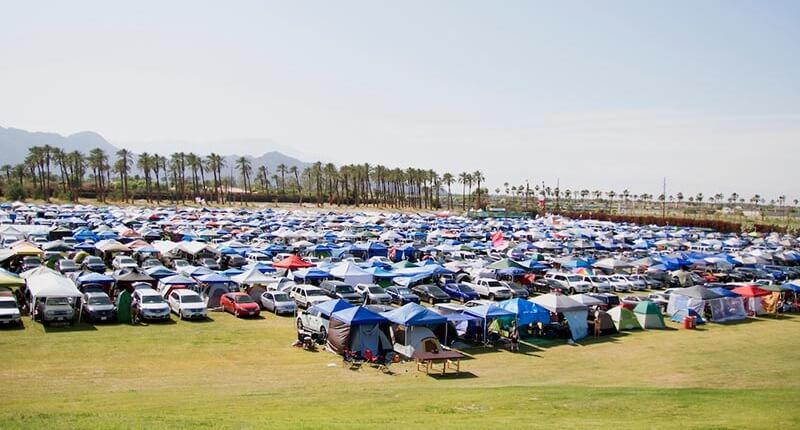 Hotels
For non-campers, there are a lot of options available if you plan ahead! Hotels drastically increase their prices and book up fast, so browse places as soon as you know you'll be attending or be prepared to pay higher-than-normal rates. From houses to rent (Airbnb), quaint hotels and other luxury accommodations, the possibilities are endless! The surrounding cities (i.e. Indio) have tons of hotels with multiple bedrooms, pools, grills, and other perks that feel extra A-list after hours in desert.
*TOP TIP* Get your hand on hotel travel package, inclusive of lodging, tickets to Coachella festival and a shuttle pass to get to and from the festival/between all participating hotels. Check Coachella tickets price as it gets expensive near the event date.
What To Wear
BE STYLIST, BUT COMFORTABLE!
Guess what? Coachella is in the desert, it's going to be hot. Scorching hot! Sunblock, sunglasses and light clothing are a must. Although, anything and everything goes when it comes to Coachella fashion, festival attendees are some of the trendiest in the country. Layering is your best option, since Coachella is blazing during the day and gets a lot colder once night sets. You will be on your feet for most of time, so you definitely want to have on a pair of comfortable shoes (Be sure to carry Extra pair of shoes/ socks, having soggy feet will make you miserable). Incorporate a bandana in your outfit, in case you get caught in the sandstorm. For more ideas check Coachella pictures on Instagram.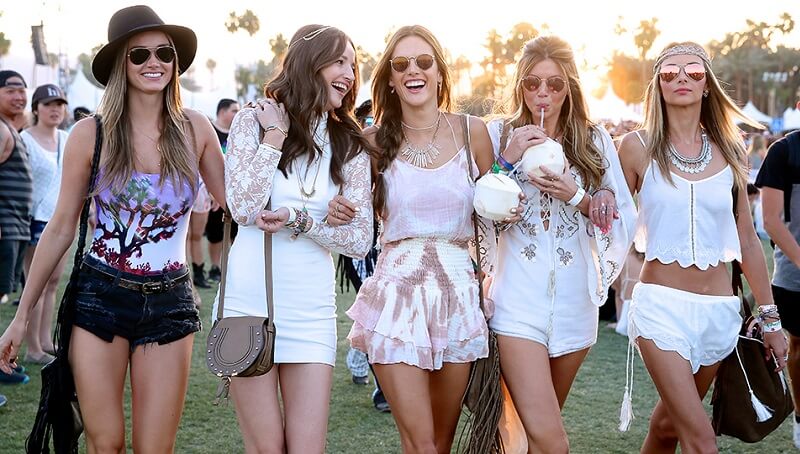 OH, AND DON'T FORGET YOUR WRISTBAND! It's your entry ticket, you won't get in without one.
What to Eat
Enhance your Coachella experience with amazing food! With well over 100 food vendors spread throughout the festival grounds, the options are endless- from wood-fired pizza, burgers to tacos and Thai dishes. There are plenty of vegetarian, vegan and gluten-free options to choose from as well. Craft Beer Barn serves microbrews and specialty cocktails throughout the day.
What to Pack
Pack your backpack strategically for comfort and convenience. Here's a list of things we think are necessary:
Water bottle – To keep yourself hydrated! There are many water refill stations throughout the venue
Cash – Remember some water stations/vendors will only take cash, so don't get caught up in exorbitant ATM fees and long queues
SPF Sunscreen / Sunglasses / Hat – To beat the heat and protect yourself from the blazing sunrays!
Camera – To capture pictures and memories
Portable Phone Charger – When you're trying to find your friend or call for a taxi at the end of the night, you wish you would have listened to us!
Packable Blanket – Use for 'picnics' or even just to take naps
Earplugs – Protect your hearing! Enjoy music without going deaf
Chap Stick / Hand Cream – Being in the hot desert, you're more likely to get dry
Ibuprofen – it's going to be hot, there's going to be music and lots of people you may get a little headache so just in case!
Hand Sanitizer – You are going to surrounded by germs, stay clean on-the-go stay and avoid the Porta-potties unless necessary
How to Maximize Fun
Plan ahead: As soon as you reach the Festival, get the Coachella Festival guide and make a list of the things you want to do. Fix a meet-up spot for you and your friends, since your mobile phones will probably run out of battery.
Be adventures: Take chance on what you plan on doing, rather than just sticking to the plan. Listen to new bands and discover your favorites on your way.
Avoid the hottest time of the day: you may miss few a songs, but you'll be better energized in the evening time.
Don't drink too much: Music and Drinks go well together but be careful to not overdo it or you'll probably have to face a massive hangover.
Be Prepared: Keep track of your things -Add name and telephone tag to your items, so they can be returned if lost.
Enjoy the Experience: Enjoy what's happening now rather than updating your Instagram constantly. Sure, Social Media is becoming necessary in our lives, but nothings better than living in the moment.
Don't disturb others: Coachella attendees come to see their favorite artists and to have a good time. Don't be the one to ruin everyone's mood. Don't block other people's view and don't push or shove to make your way to the front of the stage-instead get there early.
Don't forget to check out for Rules and Regulations of Coachella Festival.
The following items are prohibited into the grounds at the Coachella Music Festival: No instruments, knives/weapons, chains/chain wallets, fireworks, blankets, outside food & beverages, bota bags, tents, flags, refunds/exchanges/cancellations, chairs, video cameras, audio recording devices, professional cameras, stuffed animals, sharpies/markers, pets, drugs or drug paraphernalia. There is also no tailgating allowed in the parking lot prior to entrance. For more Coachella rules and regulations Click Here.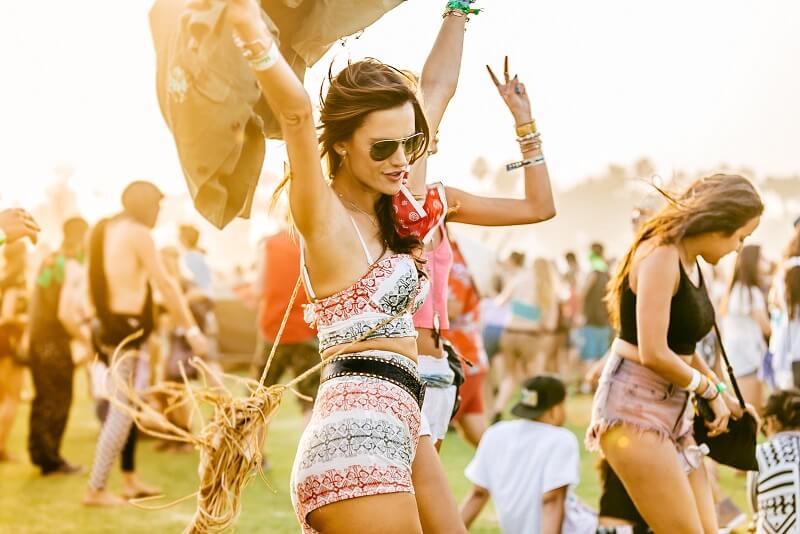 HAPPY COACHELLA!
Some Other Popular Festivals in April
Stagecoach Tickets
Country Thunder Arizona Tickets
New Orleans Jazz And Heritage Festival Tickets
Sweetwater 420 Fest Tickets
M3 Rock Festival Tickets
III Points Festival Tickets
Beale Street Music Festival Tickets
Sunfest Tickets
Coachella Questions Answers
Can I only buy Coachella tickets weekend 1?
Yes, you can buy the Coachella festival tickets for weekends separately.
Does Tickets4festivals sell cheap Coachella tickets weekend two?
Yes, tickest4festivals has both Coachella weekend 1 tickets and Coachella weekend 2 tickets at very reasonable prices.
Where can I buy cheap tickets to Coachella?
Tickets4festivals is the best source to get Coachella festival tickets 2024. You can check Coachella 2024 tickets prices above on our page.
What is the Coachella VIP ticket 2024 price?
Check out the Latest VIP prices available for Coachella week 1 tickets and Coachella week 2 tickets on Tickets4Festivals.
How much are Coachella shuttle tickets 2024?
We have mentioned above Coachella shuttle tickets prices and Coachella camping tickets.
Can Coachella fest tickets cost be reduced?
We offer special Coachella tickets 2024 promo code for our clients. Use FIESTA discount coupon and get Coachella concert tickets in cheap price.
Do I need to buy Coachella car camping tickets 2024?
Yes, you can check above for Coachella car camping prices and Coachella tent camping tickets.